CRAZY LEGS EVENTS REGISTRATION SERVICE
Crazy Legs Events provide chip timing and event management services to race organisers nationwide. We also organise running and multi-sports events in the Greater Manchester, Cheshire, Derbyshire and Peak District.
We are committed to ensuring our events are as safe, accessible, enjoyable and inclusive as possible.
We take pride in trying to ensure we publish accurate and timely results.
Our aim is to achieve high levels of satisfaction, leaving participants feeling they have had value for money and wanting to return again and again.
enquiries@crazylegsevents.co.uk
phone - 07904 427931
---
---
GOYT VALLEY STRIDERS ANNIVERSARY TRAIL RACE
---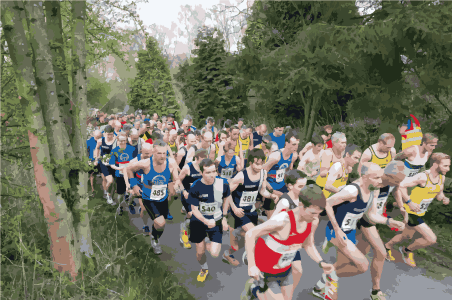 Goyt Valley Striders 30th Anniversary Trail Race (1988 - 2018)
Run under UK Athletics / Trail Running Association Rules, TRA Licence No: (Applied For)
Race Venue
Errwood Sailing Club, Errwood Reservoir, Sandy Ln, Buxton, Derbyshire, SK17 6GJ (OS SK 017 755)
Registration will be open from 10:45am to collect your race numbers and it will close at 11:45am.
The run is at 12:00noon on Saturday, 27th October 2018.
Entry limit is 300
Minimum age is 16yrs
Enquiries to: gvstrailrace@btinternet.com
The entry fee
Affiliated Runner: £13.00 (PLUS £1.10 booking fee)
Un-Affiliated Runner: £15.00 (PLUS £1.10 booking fee)
On-line Entries will close at 7:00pm 26th October 2018
Entry limited to 300 runners.
Race Information
The course is a single lap figure of 8 route on a Multi-Terrain Surface of Road, Gravel Track and off road paths, if it is wet it may be a bit muddy in parts.
The course is undulating with 275 metres of climb; it should be suitable for most runners.
The race route will be fully marked and Marshalled
Map: https://gb.mapometer.com/running/route_4680337.html
Memento to all Finishers
By ticking the declaration box and submitting your entry you are agreeing to the following terms:
I understand that this race is held in accordance, and that I have familiarised myself, with both the Rules and Safety Requirements of the TRA. I confirm that I am aware of the Organiser's information and requirements in connection with this race. I confirm that I have navigational skills appropriate for this race and will carry throughout the race any equipment specified either by the TRA Safety Requirements or by the organiser. I accept the hazards involved in trail running and acknowledge that I am entering and running this race at my own risk. Other than the Organiser's liability for causing death or personal injury by negligence, I confirm that I understand that the Organiser accepts no liability to me for any loss or damage of any nature to me or my property arising out of my participation in this race.
In line with most other events companies we don't offer refunds, but if you find you are unable to attend an event, please let the organiser know.
---
RSS feed